There are few better cities to shop until you drop than the Big Apple. When it comes to shopping, New York is home to some of the best known high-end fashion streets in the whole world. Names such as Broadway and 5th Avenue are known all over the world for their fancy boutiques and chic salons.
If you're planning to go shopping in New York, check out these top shopping streets and the most famous stores along them:
Fifth Avenue
The most famous of them all, Fifth Avenue is a must-see even if you're not looking to spend. The avenue runs all the way through Manhattan from north to south, with the main shopping areas to be found between 14th Street and 59th Street. Here's where you'll find all manner of high-end boutiques and large department stores. Highlights include Abercrombie & Fitch, Banana Republic, Prada, Bergdorf Goodman and Victoria's Secret.
Broadway
Broadway comes a very close second to Fifth Avenue in terms of popularity. It's also the longest street in Manhattan, which means that it actually covers several different areas. Broadway runs all the way up from Lower Manhattan to the tip of Northern Manhattan. The best area for shopping is the Upper West Side, where you'll find all kinds of shops on the main drag. There are a number of great college shops close to Columbia, and a bit further down you'll find stores like Urban Outfitters and American Apparel as well as many smaller fashion stores.
Broadway also hosts many famous names like Bloomingdales and Topshop along Lower Manhattan and especially in Soho, while Midtown Manhattan is where you'll find New York's famous theaters, with a few high-end stores scattered among them.
Times Square
Okay so it's not really a "street" but still, Times Square is absolutely not to be missed. Times Square is home to well known favorites like the Disney Store and Sephora, Forever 21 and Toys R Us to name just a few.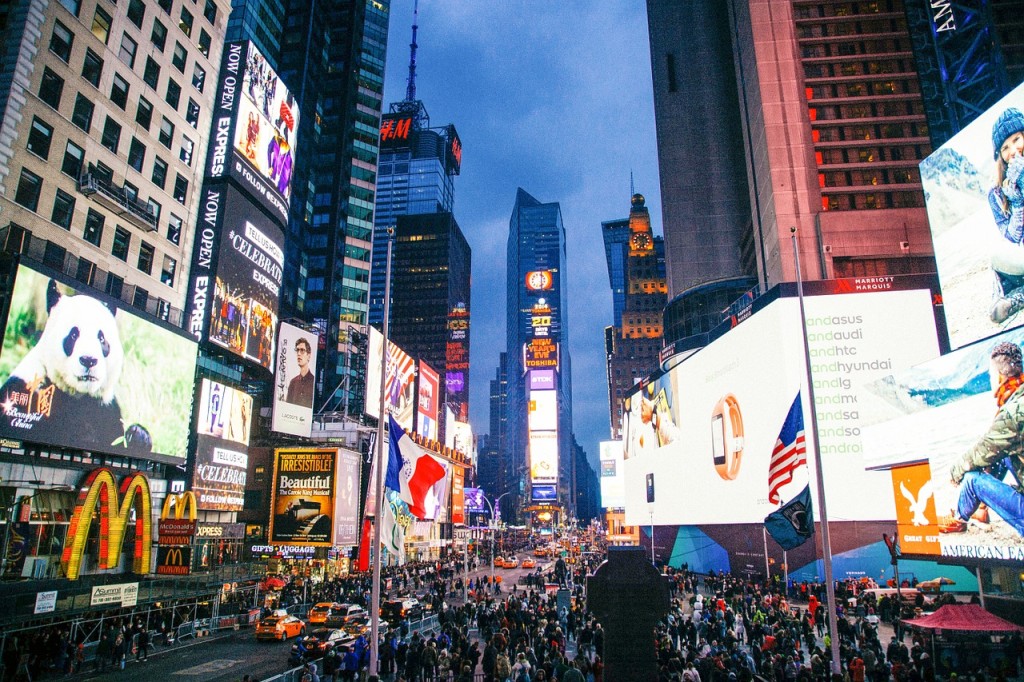 Herald Square
It might not be as famous as its near-neighbor, but Herald Square still deserves a mention. It is, after all, the place where you'll find the enormous Macy's store, as well as Gap and Victoria's Secret and many more. It's also right up close to the Empire State Building, so you can combine your shopping with a trip to the observation deck for an epic day out.
Madison Square Park
The streets around this enormous public park, especially those to the south around Union Square have a bountiful selection of fashion shops. Madison Square Park is also a great place to eat, with Italian cuisine available from Eataly opposite the Flatiron Building. Union Square also has one of the biggest Barnes & Noble stores in the United States, a huge place where you can sit and read for hours in peace.
14th Street
Last but not least is 14th Street, which is just to the south of Union Square near Madison Square Park. 14th Street runs east to west in Lower Manhattan, and is home to the famous Meatpacking District where you'll find all manner of famous boutiques, and East Village, which is famous for its numerous independent stores.