There is truly no place like Europe for Christmas. So it will come as no surprise that European Christmas markets are in a class of their own. From snowy cobblestone streets ripe with old world charm to surprising traditions that you will you will want to bring back home with you, here are a few of the best Christmas Markets In Europe that are not to missed.
Paris
The city of lights shines extra bright during the holiday season. With close to a dozen markets throughout Paris and their locations ranging from the Notre Dame Cathedral to directly below the Eiffel Tower, these markets may have some of the best views in the world. The Paris Christmas markets run from late November through the new year and are free of cost, why not see them all? Given France's reputation as home to some of the world's best artists and craftsmen you can be sure you will leave with unique and meaningful gifts.
Stockholm


The Old Town Christmas Market in Stockholm, Sweden is one of the oldest Christmas markets in Europe, dating back at least two centuries and possibly as many as five. Be sure you dress warm and grab a cup of warm Glögg to ensure the frost doesn't get to you. Once you are thoroughly heated, you can enjoy browsing the the countless stalls filled with handmade, distinctively Swedish, arts and crafts. Most importantly, make sure you come hungry. The Swedish Old Town Christmas Market in Stockholm is known for its unique eats. What says Christmas more than a slab of smoked reindeer?
Madrid
Your chances of having snow in Spain's capitol on Christmas may be less than elsewhere in Europe but don't let hat deter you. Madrid's Christmas Market is well known for its elaborate light displays and intricate custom made nativity scenes. Madrid's European Christmas market offers a Spanish twist on handmade gifts as well as a unique local made holiday liqueur.  Remember, no trip to the Madrid Christmas market would be complete without sampling the holiday confection, turron.
Cologne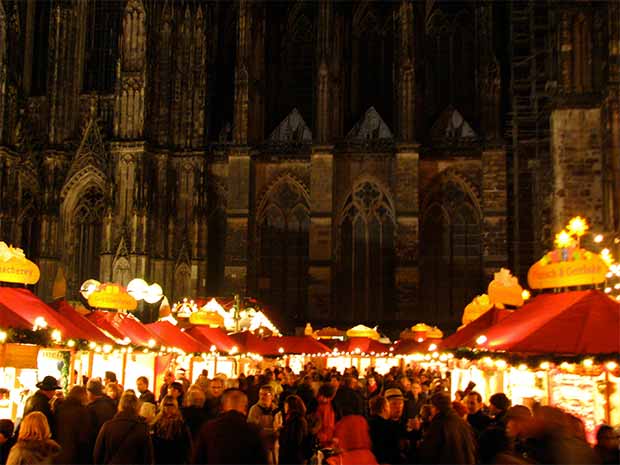 The only European Christmas market on my list to be at a UNESCO World Heritage Site, the Cologne Cathedral Christmas Market features nearly 200 uniquely traditional vendors. This German Christmas market also features traditional holiday music which when combined with breathtaking cathedral in the background creates a truly magical experience. What is Christmas without the whole family? The Cologne market is perfect for kids even offering Grimm fairytale performances in addition to a Santa meet and greet. And for the adults there is plenty of Glühwein (german spiced wine) to keep you in the holiday spirit. Germany is considered by many to be the perfect place to spend the holidays and the Cologne market is a excellent example of this.
Europe is an ideal place for the holidays and whether you get the chance to visit one of the best Christmas markets in Europe on this list or one of the countless hundred others, you will undoubtedly have an unforgettable experience, maybe even buy yourself a ticket for 2016. So lace up your snow boots, button your jacket and have a merry time at a European Christmas Market.