New Figures show 42% of Brits will spend Christmas away from home
New York and Melbourne most popular destinations
Millennials prefer traditional Christmas at home
A recent survey carried out by Bolsover Cruise Club has discovered some startling results about the tendencies of Brits over the Christmas period. The results show that just a third of Brits plan on staying home for Christmas and many are looking to spend their festive season in sunnier climbs.
The Stats
Of those who were polled the survey has found that 67% of Brits would be happy to consider a holiday over Christmas. Of those asked we can see that 42% of Brits would be willing to go abroad and 25% would be happy to travel, but would prefer a UK destination.
Both genders are equal in their opinion of spending Christmas away from home, but when it comes to age groups we can see that it is in fact millennials who are maintaining the traditional Christmas at home, with the decline in numbers coming from the older generations.
Those living in Norwich are most likely to leave home for Christmas and Liverpudlians too have been found to be far more likely to spend Christmas abroad whereas those living in Bristol would prefer to stay at home.
You can see more info on the Christmas trends of Brits here https://www.bolsovercruiseclub.com/blog/sun-sea-and-snow-the-rise-in-spending-christmas-abroad/
Where to?
The following infographic gives you an idea of some of the destinations which Brits were searching for in the lead up to Christmas 2017, as you can see it is heavily dominated by European destinations;
The study carried out however does suggest that Brits are looking to go long distance for their festive break, as you can see from the breakdown of which countries they wish to spend their Christmas.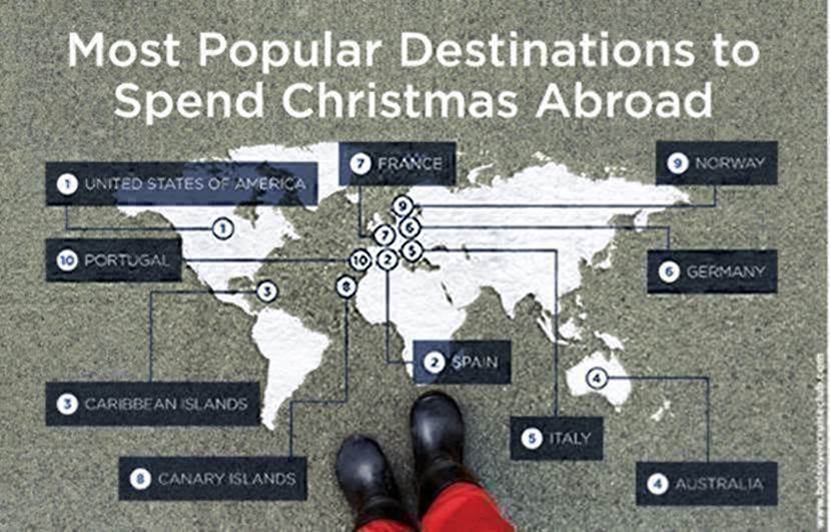 The top 10 cities to spend Christmas are as follows:
New York
Melbourne
St Barts
Sydney
Berlin
Brisbane
California
Paris
Oslo
Sorrento
Bolsover Cruise Club is a family owned company which has lead the way in the cruise industry for many years since it was first founded in 1960. Managing Director Michael Wilson had this to say when asked about his reaction to the survey results;
"It was interesting to see that the majority of people would consider spending Christmas away from home, and that almost half of the population would consider heading abroad. Whilst New York topped the list, what also stood out is the range of hotter climates where people are heading, showing people are becoming increasingly eager to escape British winter weather for Christmas!"